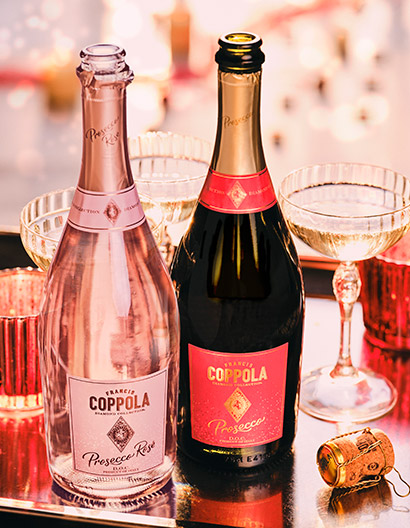 September 27, 2022
Francis Ford Coppola Winery Enters Fast-Growing Prosecco Category
New Prosecco DOC and Prosecco Rosé DOC Launch Under Coppola's "Diamond Collection" Tier as Part of Multi-Phase Investment in Coppola Brands
Geyserville, Calif. (Sept. 27, 2022)
Delicato Family Wines announced today the release of two new sparkling wines from Italy's Prosecco region under the Francis Ford Coppola Winery "Diamond Collection" brand. Crafted in Italy in collaboration with Delicato's executive vice president of winemaking, Corey Beck, Coppola Diamond Collection® Prosecco DOC and Prosecco Rosé DOC extend the Coppola® brand into Italian wine for the first time, and will be available nationwide this fall for a suggested retail price of $18.
"Francis Coppola's enduring passion for Italian wine and food brought him into the California wine industry nearly 50 years ago; it's an exciting moment to be able to honor that Italian heritage by bringing these superb wines into the Coppola portfolio," remarked Beck. The wines are made in a fruity, elegant and easy-drinking style, and bottled in a colorful package that consumers rated highly for shelf appeal and quality cues.
The Prosecco offers crisp, lively flavors of apple, citrus, and white peach, while the Prosecco Rosé features notes of strawberry, cherry, and citrus. Both are extra dry.
Intro Leverages a Powerhouse Super-Premium Brand and Strong Category Momentum
Coppola Diamond Collection is a Top 5 super-premium wine brand in the U.S., selling more than a million cases in 2021. The new sparkling wines give Diamond Collection a strong entry point in the country's fastest-growing wine category: Prosecco sales growth outpaces that of all other wine types, with super-premium sales representing 67% of the Prosecco category.
Additionally, "super-premium Prosecco is driving category growth," remarked Gabriela Becker, vice president of marketing for the Coppola portfolio. "We know that Coppola Diamond Collection consumers love and trust the brand, and that they are already drinking Prosecco. So, bringing that quality and Italian heritage to a wine that's a part of their lifestyle is a natural fit," she added.
Launch Part of a Multi-Phase Investment in Coppola Diamond Collection Brand
Coppola Diamond Collection and the Francis Ford Coppola Winery in Sonoma County, California, became a part of Delicato Family Wines in August of 2021. Delicato has since invested heavily in the Coppola brands, starting with in-depth consumer research studies to gain a nuanced understanding of how Coppola consumers enjoy Diamond Collection wines—a first for the brand.
"We want to grow Diamond Collection thoughtfully, by listening to our consumers and respecting everything about the brand that has made it so successful to date," remarked Jon Guggino, executive vice president of marketing. "Diamond Collection is a very strong brand and has terrific potential for growth with super-premium wine drinkers who may not be familiar with it. So, raising awareness and driving trial with new consumers is a top priority," continued Guggino.
Delicato Family Wines has also invested significantly in in-store marketing, leveraging the scale and focus of the Delicato sales organization. Today, 2,000 more U.S. stores and restaurants sell Coppola Diamond Collection wines compared to a year ago, and, over the same period, the brand's points of distribution have increased by nearly double that amount.
Multi-Million Dollar Advertising Campaign to Launch Next Year
Insights gained from extensive consumer research are currently being incorporated in the development of a new marketing platform for Diamond Collection wines that will launch in 2023. "It's an unprecedented level of investment for this brand, and we are confident that Diamond Collection's strong brand equity and loyalty, combined with a robust campaign built on consumer insights, will fuel above-category growth," noted Guggino.
For more information on Francis Ford Coppola Wines, visit www.francisfordcoppolawinery.com.
About Francis Ford Coppola Winery
Rooted in Sonoma County, California, Francis Ford Coppola Winery is known for its superior level of quality and integrity. Owned by Delicato Family Wines, Francis Ford Coppola winery is home to more than forty wines produced on-site in a state-of-the-art winemaking facility, encompassed by sustainably farmed vineyards. These award-winning, globally recognized wines are crafted uniquely for every wine occasion and include the popular Diamond Collection and sparkling Sofia wines, as well as the winery-exclusive Francis Coppola Reserve wines. Located in Geyserville, the winery estate offers visitors a variety of tasting experiences and seasonal events, as well as culinary delights from the on-property restaurant Rustic, two swimming pools joined by views of surrounding vineyards, and a vast collection of cinematic history.
About Delicato Family Wines
Delicato Family Wines is a fourth-generation, family-owned company founded in 1924, that is among the top five largest wine companies in the U.S.. Delicato's diversified portfolio of leading wine brands includes Bota Box, Coppola Diamond Collection, Noble Vines, Gnarly Head, Z. Alexander Brown, Coppola Director's Cut, Black Stallion, Three Finger Jack, Sofia, 1924, and Schmitt Söhne Family Wines (Germany). Transcendent Wines, Delicato's fine wine sales and marketing portfolio, includes such luxury brands as Black Stallion Limited Release, and Diora in addition to imported luxury estate wines such as Stoneleigh (New Zealand) and Torbreck Vintners (Australia). For more information, visit www.delicato.com and follow on LinkedIn (www.www.linkedin.com/company/delicato-family-wines) and Facebook (https://www.facebook.com/DelicatoFamilyWines).
1Source: Nielsen IQ BASES Coppola Label Research Study, November 2021
2Source: IRI, Mulo + Conv. 13 weeks ending 7/10/22