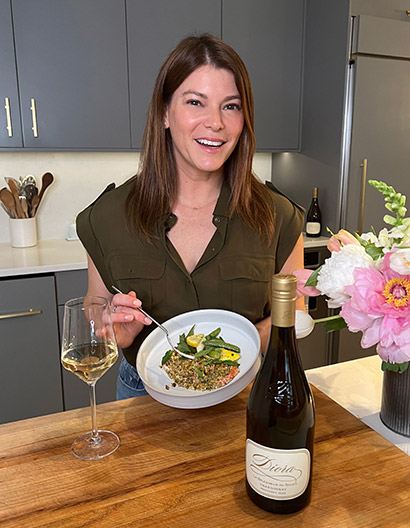 June 22, 2022
Diora Wines Partners with Cookbook Author and Television Host Gail Simmons
Simmons Brings Star Power to Fast-Growing, Ultra-Premium Monterey Wine Brand
Monterey, Calif. (June 22, 2021)
Delicato Family Wines announced today that it has partnered with celebrity cookbook author and television host Gail Simmons, one of America's best-loved culinary personalities, to promote Diora Wines through the end of 2022. Simmons is a dynamic media figure who is a permanent judge on BRAVO's Emmy- and James Beard Award-winning series Top Chef, now in its 19th successful season, co-host of The Good Dish, and the author of two cookbooks, including Bringing it Home: Favorite Recipes from a Life of Adventurous Eating.
Simmons and Diora Wines have teamed up to create ideal pairings for Diora's critically acclaimed wines, using Gail's unique recipes, that will be featured in retail point-of-sale material themed around key seasonal periods. Simmons will also feature Diora on her Instagram and Facebook channels and be a part of public relations activities on behalf of the brand.
"I'm thrilled to partner with Diora Wines to celebrate three of my favorite things in the world: great wine, great food and the pairings that make them even better together," remarked Simmons. George MacDonald, marketing director for Diora, commented: "Diora is the fastest-growing ultra-premium wine brand from Monterey because fine wine consumers know quality when they taste it, and Diora's indulgent wines seduce the palate with a single sip. Gail is widely recognized for her impeccable taste, and bringing her incredible recipes and pairing prowess together with Diora Wines creates culinary experiences that will wow Gail's fans, and introduce Diora to more consumers who appreciate great tastes in the glass and on the plate."
Consumers will see Simmons on Diora point-of-sale materials beginning this summer and continuing through the 2022 holiday season.
Find Diora Wines online at www.DioraWines.com, or on Instagram or Facebook. For more information on Gail Simmons, see www.GailSimmons.com.
About Diora Wines
Based in Monterey, California, Diora's three nationally distributed wines—a Pinot Noir, Chardonnay and a rosé of Pinot Noir– are critically acclaimed, small-lot offerings made in an artisanally scaled winery located in Delicato Family Wines' coastal estate vineyard in San Bernabe, a sub-AVA of Monterey County. The company has spent the last decade replanting San Bernabe Vineyard to facilitate precision farming of luxury wines, using detailed soil analyses to match grape clones, vine spacing, row direction, trellis and canopy management to draw out the vineyard's potential to yield terroir-driven wines of the highest quality. Diora Wines are sourced from the San Bernabe Vineyard and from River Road Vineyard, one of the oldest vineyards in Monterey's coastal Santa Lucia Highlands AVA that was purchased by Delicato Family Wines in 2016, and first planted to Pinot Noir in 1972.
1Of all wines brands at least 2,000 cases in size or greater. Source: IRI Total US Multi-Outlet + Convenience, 52 weeks ending 5/15/22