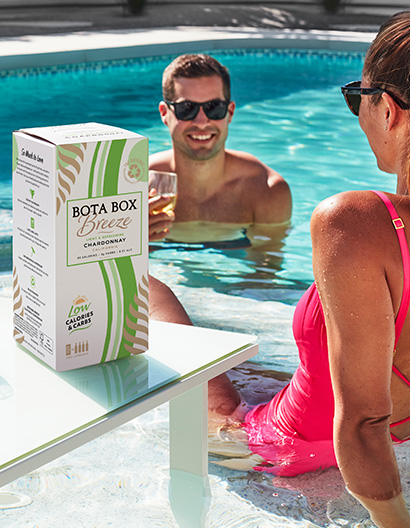 February 14, 2023
Bota Box Breeze, America's Number One Light Wine Brand, Expands Portfolio with Launch of New Chardonnay
Delicato Family Wines announced today the launch of Bota Box Breeze Chardonnay, a new offering in the phenomenally successful Bota Box Breeze lineup. Crafted using traditional winemaking techniques to create wines that are lower in calories, carbohydrates and alcohol, Bota Box Breeze launched in March of 2021 as an extension of the Bota Box brand, America's favorite premium wine packaged in 3-liter box(1). In just 20 months following launch, Bota Box Breeze vaulted to the top of the U.S.'s white-hot light wine category in dollar sales(2).
In fact, sales of Bota Box Breeze grew more than 50 percent in 2022(3) to pass the half-million annual case mark by the year's end—an extraordinary debut that stands as one of the wine industry's most successful product launches in recent years, and one that points to Americans' rapidly growing thirst for light wines.
The new Bota Box Breeze Chardonnay joins Bota Box Breeze Pinot Grigio, Dry Rosé, Sauvignon Blanc and Red Blend in the brand's portfolio. "A Chardonnay offering makes a compelling addition to the Bota Breeze lineup and builds on the brand's terrific momentum," commented Kathy Pyrce, vice president of marketing for Delicato Family Wines, makers of Bota Box. "Chardonnay claims the third-largest varietal dollar share in the light wine category, and sales of light Chardonnay are up 60 percent in volume compared to a year ago(4)," noted Pyrce. "This growth is helping to fuel the expansion of the light wine category itself, which is up 50 percent in dollar sales over the last year(5)," continued Pyrce.
"We are confident that with U.S. wine drinkers' enthusiasm for light wines showing no signs of slowing down, and with the unmatched quality, value and convenience of Bota Box Breeze wines, that Bota Box Breeze Chardonnay will be a hit with consumers," stated Pyrce.
Bota Box Breeze Chardonnay will be available on retail shelves beginning in May, 2023, with orders in place from national retailers such as Kroger, Total Wine & More and Meijer, and is line priced with the Bota Box portfolio at a suggested retail price of $23.99. Made in a crisp, clean style, the wine offers aromas and flavors of green apple, tropical fruit and honeysuckle, and a subtle note of oak on the finish. Each five-ounce serving contains three grams of carbohydrates, 80 calories and has an alcohol level of 8.5 percent(6). The wine is also low in sugar and gluten-free.
The eco-friendly, 3-liter carton contains the equivalent of four 750-ml bottles of wine. For more information about Bota Box wines and Bota Box Breeze, visit www.botabox.com or www.facebook.com/botabox.
1Source: IRI Total US Multi-Outlet + Convenience, 52 W/E 1/29/23; 2Source: IRI Total US Multi-Outlet + Convenience, 26 weeks ending 1/29/23; 3Source: IRI Total US Multi-Outlet + Convenience, 52 weeks ending 1/1/23; 4Source: IRI Total US Multi-Outlet + Convenience, 52 weeks ending 1/29/23; 5Source: IRI Total US Multi-Outlet + Convenience, 52 weeks ending 1/29/23; 6Analysis per 5 Fl. Oz. – Bota Box Breeze Chardonnay, 80 Cal./ 3g Carbs/ 8.5% Alcohol/ <1g Protein/ 0g Fat.