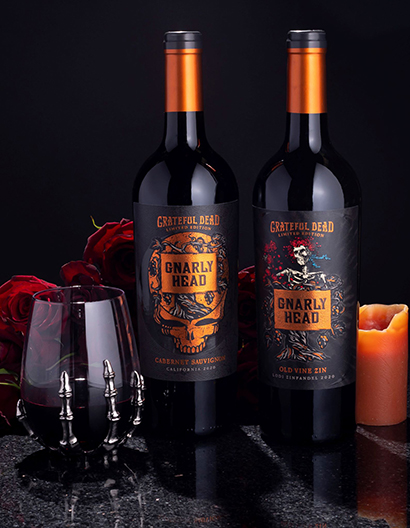 June 16, 2022
Gnarly Head Wines and The Grateful Dead Announce Partnership to Launch Two Limited-edition Gnarly Wines
Lodi, Calif. (June 16, 2022)
Gnarly Head®, a producer of bold California wines from gnarly old vines, announced today a partnership with iconic American rock band, the Grateful Dead, to release two Limited Edition Grateful Dead wines. A rich, spicy Old Vine Zinfandel, sourced from 35-to-80-year-old-vines in Gnarly Head's home appellation of Lodi, California, and a brooding, darkly fruity California Cabernet Sauvignon will hit retail shelves in the U.S. late this summer.
Labels for the wines feature iconography instantly familiar to fans of the Grateful Dead, including the band's kinetic skull and roses figure, which emerges from the trunk of a twisted, ancient vine on the Gnarly Head Limited Edition Old Vine Zinfandel label, and its emblematic lightning bolt skull, made famous by the cover of the epic 1976 live double album "Steal Your Face", an adaptation of which appears on the Limited Edition Cabernet Sauvignon label.
"Gnarly Head wines and the music of the Grateful Dead are both rooted in Northern California, and both are expressive, bold and true to their roots—so this partnership is a natural fit. And, they happen to be fantastic when enjoyed together," commented Andrew Blok, Brand Director for Gnarly Head.
David Lemieux, the Grateful Dead's archivist and legacy manager, noted that "You don't just listen to the music of The Dead, you experience it. The music is an expression of a California state of mind that's rich in creativity, connection and community. Gnarly Head wines tap that same passion and energy, and I hope that these fantastic wines inspire fans of the Dead to catch some of those vibes when they pour themselves a glass of Gnarly Head wine and put on their favorite album."
The Limited Edition Grateful Dead Lodi Old Vine Zinfandel and California Cabernet Sauvignon will launch with distributors in July, 2022, and will be on retail shelves nationwide as of September, 2022. The wines will have a suggested retail price of $12.