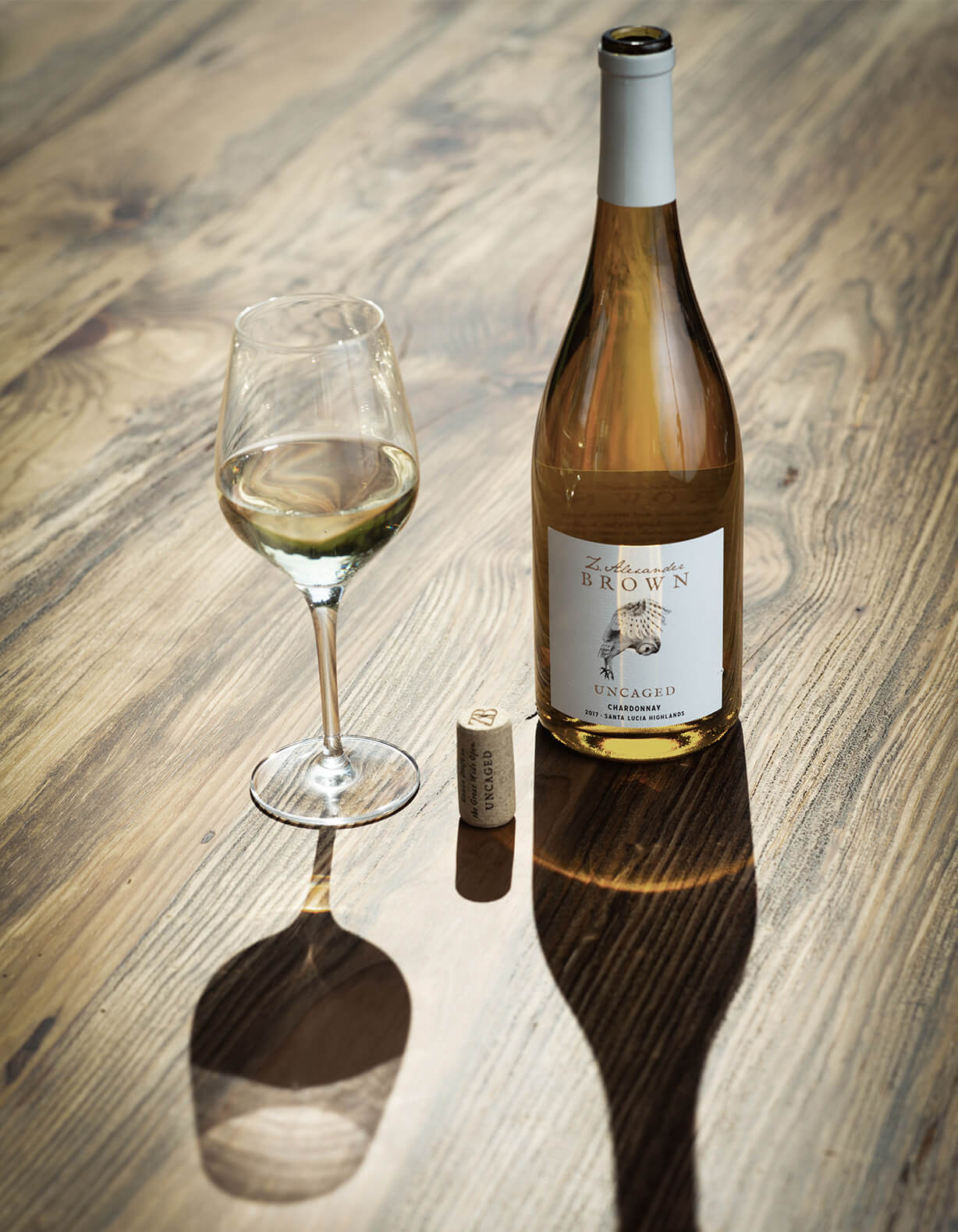 January 08, 2018
Grammy-Award Winning Musician Zac Brown and Napa Valley Winemaker John Killebrew Introduce First White Wine to Z. Alexander Brown Collection
Z. Alexander Brown 2016 Uncaged Chardonnay from California's Santa Lucia Highlands is available nationally
NAPA, Calif. (January 8, 2018) – Z. Alexander Brown wines have announced the national launch their Z. Alexander Brown 2016 Uncaged Chardonnay, the first white wine addition to the portfolio of robust wines from GRAMMY award-winning musician Zac Brown and Napa Valley Winemaker John Killebrew. Uncaged was inspired by Zac and John's approach to crafting Z. Alexander Brown wines, and the title of Zac Brown Band's GRAMMY award-winning album. 
Launched by Delicato Family Vineyards in January 2016, Z. Alexander Brown became the #1 new wine brand of the year and is now a top 150 brand*. The timing is ideal to enter the thriving Chardonnay category, still the favorite varietal in the US with the $15-20 segment currently growing +12%**. 
"All of the Uncaged wines are complex, juicy and dynamic. We wanted to craft a food-friendly, versatile Chardonnay—in a bold style with excellent acidity and balance. This wine is true to the variety, with a bright acidity attributed to the cool climate of Santa Lucia Highlands," noted Z. Alexander Brown wine maker John Killebrew. "Sourced from the Santa Lucia Highlands AVA in Monterey, this Chardonnay expresses flavors indicative of the region in which the grapes were grown: Juicy stone fruit flavors balanced by a nice acidity for exceptional balance, mouthfeel and bold spice character, rounded out with a generous helping of rich, toasty vanilla oak."
"Wine has always fascinated me because of its inherent connection to the land and the artistry necessary to craft a distinct and memorable experience, and I'm really excited to launch our first white wine," added Zac Brown, proprietor of Z. Alexander Brown. "I always liked Cabs, and then I realized that every wine serves a purpose – like guitars. To truly create music, each song needs a different voice and the same is true when pairing wine varietals with food."
Zac's dedication to craftsmanship is expressed not only in his music and wines, but in Southern Ground, the lifestyle brand Zac created to express his passions of originality, quality and philanthropy, including the Z. Alexander Brown portfolio. As part of Zac's commitment to giving back to the community, Zac's Southern Ground family of brands help to support his non-profit passion project: Camp Southern Ground. 
The inaugural 2016 vintage of Z. Alexander Brown Chardonnay is available nationally with a suggested retail price of $19.99. Click here for Bottle Shots or Click Here for Beauty Shot. For more information or to purchase Z. Alexander Brown wines online, visit www.zalexanderbrown.com. To join the Z. Alexander Brown social community, visit Facebook and follow @zalexanderbrown on Instagram and Twitter. 
*US Food, W/E 12/02/17 
*Nielsen 12/02/17