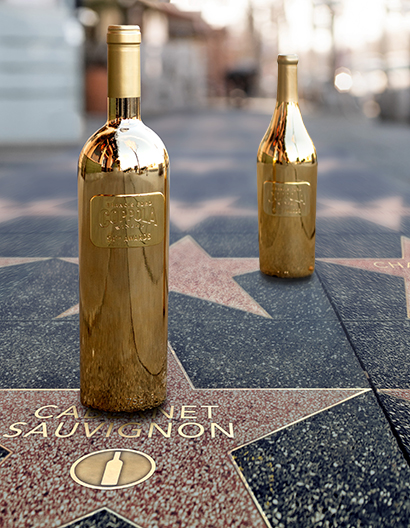 March 01, 2022
Francis Ford Coppola Winery Celebrates 94th Oscars® With Two Limited-Edition Awards Wines
94th Awards Chardonnay and Cabernet Sauvignon to be Poured at
Official 94th Academy Awards® Events
February 25, 2022 (Geyserville, CA)
Francis Ford Coppola Winery – the award-winning Sonoma County, California destination winery – will premiere two limited-edition wines in honor of the 94th Oscars® taking place on Sunday, March 27th, marking the celebrated winery's sixth year of partnership with the Academy of Motion Picture Arts and Sciences. The Francis Ford Coppola Awards Wines will be poured at official Oscars® events.
The Francis Ford Coppola limited-edition 94th Awards Wines are housed in glistening gold-colored bottles, and are crafted as symbols honoring the significant talent, passion and hard work achieved throughout the entire film industry. The exclusive gold bottles are produced by Bottega in Italy located in Bibano, Treviso, 30 miles north of Venice. Crafted in tiny quantities exclusively in honor of the 94th Oscars®, each wine represents a barrel selection of top lots from two of California's most illustrious wine regions: Russian River Valley, a premiere source of world-class Chardonnay, and Alexander Valley, home to Sonoma County's most celebrated Cabernet Sauvignons.
The 2020 vintage 94th Awards Chardonnay is rich and smooth with a creamy aroma of juicy pineapple and butterscotch. Notes of buttery caramel and ripe yellow fruit lend to a lingering finish. Full and robust, the reserve 2019 vintage 94th Awards Cabernet Sauvignon from Alexander Valley delights the nose with tantalizing aromas of blueberry, mocha toffee and dark cocoa spice. Juicy flavors of concentrated blackberry and ripe plum are followed with notes of mocha, and an enticing vanilla caramel lift on the finish. While both wines will continue to mature gracefully in bottle for years to come, they are exceptional options to enjoy while toasting the winners of this year's Academy Awards. More details on the exclusive 94th Awards Wines can be found here.
A limited allocation of these wines is available for purchase by consumers from The Francis Ford Coppola Winery online store.
Wine lovers are invited to follow along on Instagram @coppolawine for social promotions.