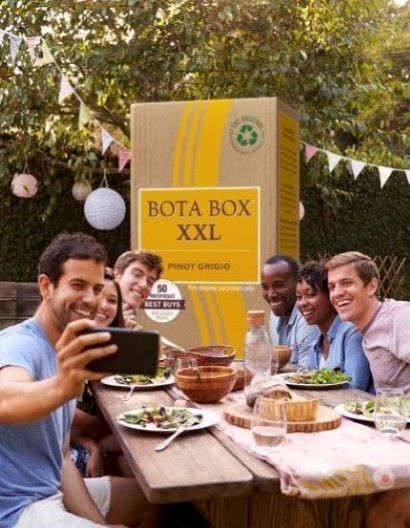 August 03, 2021
Bota Box Creates Epic Six-Foot-Tall Wine Dispenser, The Bota Box XXL
The premium boxed wine brand offers chance to win a Bota Box XXL and a $10,000 block party
NAPA, Calif., (Aug. 3, 2021)
Bota Box, America's favorite premium boxed wine brand, announced today that it has created the ultimate wine offering for post-pandemic parties: a six-foot-tall wine dispenser, the Bota Box XXL. A consumer sweepstakes to win the Bota Box XXL, plus a block party for friends and neighbors valued at $10,000, launches today nationwide.
After more than a year of social isolation, in which wine lovers kept six feet away from their neighbors and friends, Bota Box wants to celebrate gathering with old friends and making new ones around the six-foot-tall Bota XXL. To toast this momentous moment and offer a suitably epic centerpiece to post-pandemic socializing, the Bota Box XXL features dispensers for both red and white Bota varietals, poured from different sides of the box.
"We want the Bota Box XXL to inspire neighbors and friends to connect and celebrate together," said Nicole Ordonez, Bota Box marketing director. "Bota Box's delicious, shatterproof wines go wherever the fun is, and, with so many long-postponed gatherings and celebrations taking place, we want to help America throw the ultimate Bota Box block party."
Between August 3 and September 14, consumers may visit www.botaboxXXL.com and enter once each day to win the ultimate Bota Box XXL block party, complements of Bota Box. Consumers may earn additional entries (after entering online) by sharing the sweepstakes to Instagram and Twitter with the hashtag #BotaXXLSweepstakes. Winners will be announced by September 21, 2021.
To learn more about the Bota Box XXL and enter the sweepstakes for a chance to win the Bota Box XXL, visit BotaBoxXXL.com. For more information about Bota Box wines, visit www.botabox.com or www.facebook.com/botabox.