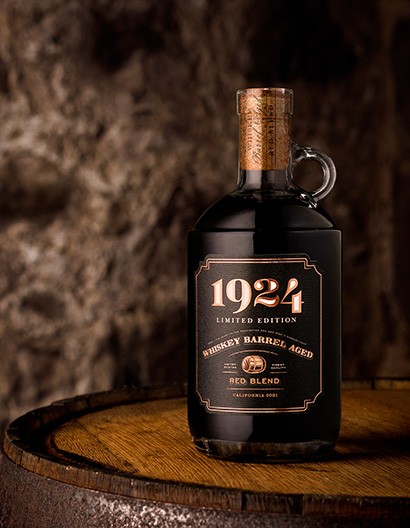 July 10, 2023
1924, America's Fastest Growing Spirit Barrel-Aged Wine Brand, Expands Portfolio with Launch of Whiskey Barrel-Aged Red Blend
Leader of Spirit-Aged Wines Debuts First Ultra-Premium Red Blend in Fast-Growing Category
MANTECA, Calif. July 10, 2023 – Delicato Family Wines announced today the nationwide launch of 1924 Whiskey Barrel-Aged Red Blend, a new offering from 1924, the U.S.'s fastest-growing Premium spirits barrel-aged wine brand1. Delicato Family Wines is the U.S. sales growth leader in spirits barrel-aged wines, with year-to-date growth of 14.8% in dollar sales in the category2.
Launched as an homage to the year the winery's founders, the Indelicato family, planted their first California vineyard, 1924 Wines pays tribute to the rebellious and daring spirit of the 1920s. The brand has caught on with consumers nationwide, growing by an average of 34% each year3 since its launch.
The new 1924 Whiskey Barrel-Aged Red Blend joins the 1924 Bourbon Barrel-Aged Cabernet Sauvignon and Port Barrel-Aged Pinot Noir in the brand's spirit-aged portfolio. "The launch of our new Whiskey Barrel-Aged Red Blend builds on the continuing strength of consumer interest in the spirit barrel-aged wine category," noted Brett Johnson, 1924 Portfolio Director. "With the entire category almost quadrupling in sales to nearly $200 million over the past five years4, spirits-barrel-aged wines have become an important segment that continues to find favor with consumers."
Johnson continued, "We're excited to introduce a unique bottle design with this launch, which we believe will bring differentiation and excitement to the category while tying back to the brand's 1920s roots. With the consistent popularity of red blends amongst U.S. wine drinkers combined with the demand for spirit barrel-aged wines, we know 1924's Whiskey Barrel-Aged Red Blend will resonate with consumers who look for the bold, intensely flavorful wine for which 1924 is known."
1924 Whiskey Barrel-Aged Red Blend is launching at retail nationwide in June 2023 at a suggested retail price of $21.99. Sourced from select California vineyards, the Whiskey Barrel-Aged Red Blend offers the same rich, smooth signature profile that 1924 consumers love. Crafted from traditional Bordeaux-style varietals of Cabernet Sauvignon, Merlot, Petite Verdot, and Malbec, the Cabernet-dominate blend is aged in authentic premium Whiskey barrels for a minimum of sixty days.
For more information about 1924, visit www.1924wines.com and follow @1924wines on Instagram.
About 1924 Wines
1924 is a leading brand in the U.S. Premium wine category and the fastest growing U.S. brand in the Premium spirits barrel-aged category5. Named a two-time winner of Market Watch Magazine's "Hot Prospect" IMPACT awards and Beverage Information Group's "Rising Star" Growth Brand Awards, 1924 consistently garners Gold medal awards from esteemed wine competitions across the nation. The portfolio of wines includes Double Black Cabernet Sauvignon, Double Black Red Blend, Double Black Bourbon Barrel-Aged Cabernet Sauvignon, Port Barrel- Aged Pinot Noir, Scotch Barrel-Aged Chardonnay and Buttery Chardonnay, all crafted from select vineyards across Northern California. 1924 wines are an homage to the year the winery's founders, the Indelicatos, planted their first vineyards in Manteca, California during the heart of Prohibition and wine's darkest hour, taking inspiration from the rebellious spirit of the 1920s.
About Delicato Family Wines
Delicato Family Wines is a fourth-generation, family-owned company founded in 1924 and ranks among the largest wine companies in the U.S. Delicato's diversified portfolio of leading wine brands includes Bota Box, Coppola Diamond Collection, Noble Vines, Gnarly Head, Z. Alexander Brown, Coppola Director's Cut, Black Stallion, Three Finger Jack, Sofia, 1924, and Schmitt Söhne Family Wines (Germany). Transcendent Wines, Delicato's fine wine portfolio, includes such luxury brands as Black Stallion Limited Release (Napa) and Diora (Monterey, Calif.) in addition to imported luxury estate wines such as Stoneleigh (New Zealand) and Torbreck Vintners (Australia). For more information, visit 
www.delicato.com
and follow on LinkedIn (
www.linkedin.com/company/delicato-family-wines
) and Facebook (
https://www.facebook.com/DelicatoFamilyWines
).
1Source: Circana, Total US Multi-Outlet + Convenience, 52 weeks ending 3/26/23
2Source: Circana, Total US Multi-Outlet + Convenience, 52 weeks ending 3/26/23
3Source: Circana, Total US Multi-Outlet + Convenience, 52 weeks ending 1/7/18 & 52 weeks ending 1/1/23
4Source: Circana, Total US Multi-Outlet + Convenience, 52 weeks ending 1/7/18 & 52 weeks ending 1/1/23
5Source: Circana, Total US Multi-Outlet + Convenience, 52 weeks ending 3/26/23